THE ELITE TWELVE RESULTS 2017
Your 2017 Elite Twelve Top Three
First Place: Nicole Katelnikoff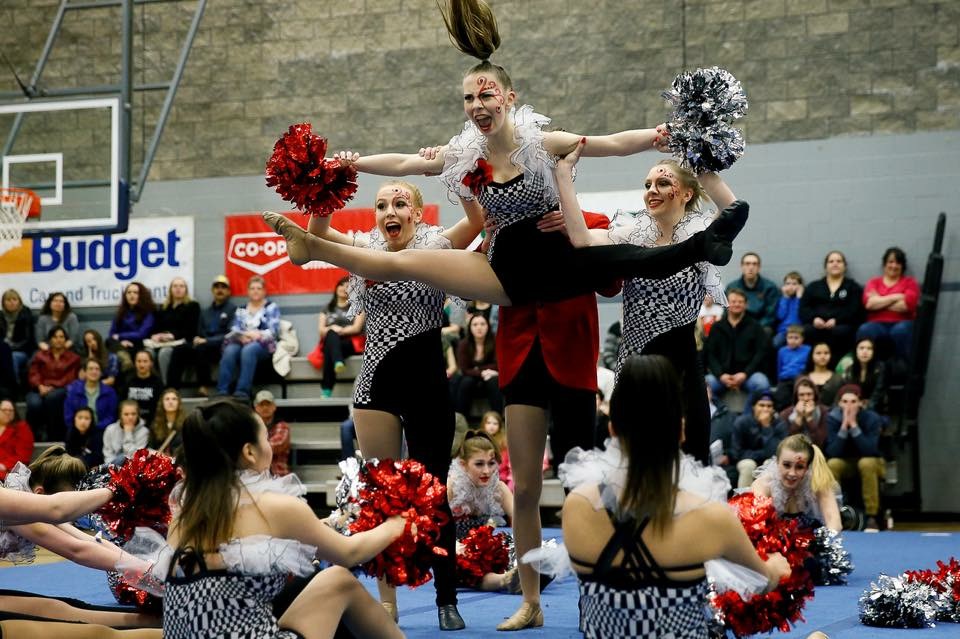 Nicole Katelnikoff is a 15 year old dancer born and raised in Saskatoon, SK. With 11 years of experience, yes I said 11, Nicole has competed in a multitude of dance competitions. Some of these include Jazz, Ballet, Lyrical, Hip Hop, Contemporary, Modern, Points, Street Jazz, and her favourite, Tap. Nicole has become extremely successful as some of her accomplishments to date include:
• Silver and Bronze medal with Team Canada Tap at Worlds last December
• Was a part of the opening dance for We Day in front of a packed crowd of 1500
• On High School Pom and have won multiple competitions including cities and provincials. Earned a spot of Senior Pom in grade 9!
Nicole attended Montgomery elementary school and is currently a grade 10 student at Bedford Road Collegiate. Between the ages of 3 and 4 her parents enrolled her in tiny tots dance and she has been hooked ever since. At age 7, Nicole started her competitive career in dance as she became certified and started traveling. She has travelled to Humboldt, SK, to Edmonton AB, to Lake Louis for dance and last December she medaled 2nd in Worlds and plans to dance in South Africa for Team Canada once again.
Earning a spot on the Team Canada roster is not easy. Auditions were in Regina last year and from October to December, Nicole had to travel to Winnipeg every weekend to practice with Team Canada. Out of 200 applicants, only 20 made it and Nicole Katelnikoff from Saskatoon made it!
When asked what made her get into dance, Nicole responded with, "My mom put me in everything. I enjoyed soccer and dance but had to pick one. I chose dance." She then went on explaining how dance had many more opportunities including scholarships. Nicole won the outstanding 15-18 year old scholarship and can win prizes throughout competitions.
We asked Nicole what her favourite part of dance was and she responded with "Meeting new people and becoming super close to her teammates and competitors." She went on talking about how truly strong her friendships are that she made through dance because they have spent hours among hours with each other. Her life consists of school and then 4-5 hours of dance every day. There is no time for anything else but dance so dancers are really able to connect and become close during those long hours.
Even with a restricted and very busy schedule, Nicole has still been able to give back to the community. She helps teach dance every Monday and connects with the children and is a great role model for them. Nicole, as mentioned, has also been a part of "We Day" which is a huge gathering of the younger generation coming together.
When asked what she plans on doing with the $1000.00 if she won, Nicole responded with furthering her dancing career as she has dedicated her life to it up to this point and it is a passion and love that she wants to keep excelling at for future years to come. Nicole is proud to be where is today and made sure to tell us that both her parents and her teachers have had a definite role in helping her get to where she is today and would like to publicly thank them for all their hard work and support!
Nicole also has some strong dreams and aspirations for her future. In congruence with everything we have learned about her so far, Nicole plans to let her dance continue to take her around the world. Additional to continued travelling and dancing, Nicole plans to eventually open up and operate her own dance studio.
Second Place: Kyle Anspach
Kyle Anspach is a self made young aspiring drifter. At age 23, Kyle has become hooked and is already a great ambassador for the sport.
Kyle was born and raised in Saskatoon, SK and went to Silverspring Elementary school and Centennial Collegiate. We were shocked to hear that Kyle's passion actually started at a later age than most car athletes. "I never touched a vehicle until after high school and didn't know how to drive a manual until later in my life." When asked what got him involved in the sport we heard quite an intriguing story.
Kyle was driving with his buddy in his mom's SUV when it, unfortunately, had a mechanical failure. A kind gentleman in a 1998 BC8 Subaru Impreza pulled over and helped them out by offering them a ride home. Kyle then felt the adrenaline rush that comes from experiencing a turbocharged engine. Since that specific moment in time, Kyle has been seeking the adrenaline rush that comes with speed and drifting and found a way to fulfill his rush in a safe environment while bettering him in the automotive industry.
First, Kyle bought a Nissan 240sx and played around with that for a while until he then went to Edmonton and purchased a shell and engine and built a drift car from scratch. Now up to date, Kyle currently owns 5 daily drivers and 2 drift cars and has attended a multitude of drift events in 2016 and yet in 2017. Yes…I can definitely agree that the man is hooked!
A fascinating aspect of Kyle is that he fully self-taught himself throughout the use of YouTube. Using YouTube and a desire to learn, Kyle has been able to accomplish many things a young apprentice mechanic wouldn't even know how to do. Kyle has been able to repair his vehicle entirely as he built his car from scratch and has pulled off impressive feats like completely swapping a transmission the day before an event.
When asked what his favourite part of the sport was we were surprised to hear his response. Instead of the adrenaline rush like most car enthusiasts feels, Kyle stated that seeing improvement is the part he enjoys the most. "All of the work to get the car ready leading up to the event makes you feel very accomplished once you finish a day at the track."
Kyle is also immensely involved in the community as he volunteers in a high needs medical foster home, mentors for male youth with cognitive abilities, and volunteers his time to help others in the community to modify or complete their builds.
Kyle's plans, if he were to win the $1000.00, would be to put it all towards the car as like any car enthusiast knows… you need all the money you can get!
During the interview, he wanted to enforce the point that drifting should be kept off the streets and in an enclosed environment where it is safe and in an atmosphere that can be promoted rather than frowned upon. If you are someone who is looking for a place to unleash your drifting desires and want to become a pro please click the following link:
https://www.facebook.com/groups/saskdrift/
Here, you will be able to find organized drifting events, how to get involved, and as well see what cars are available for sale.
Third Place: Nicole Sheetka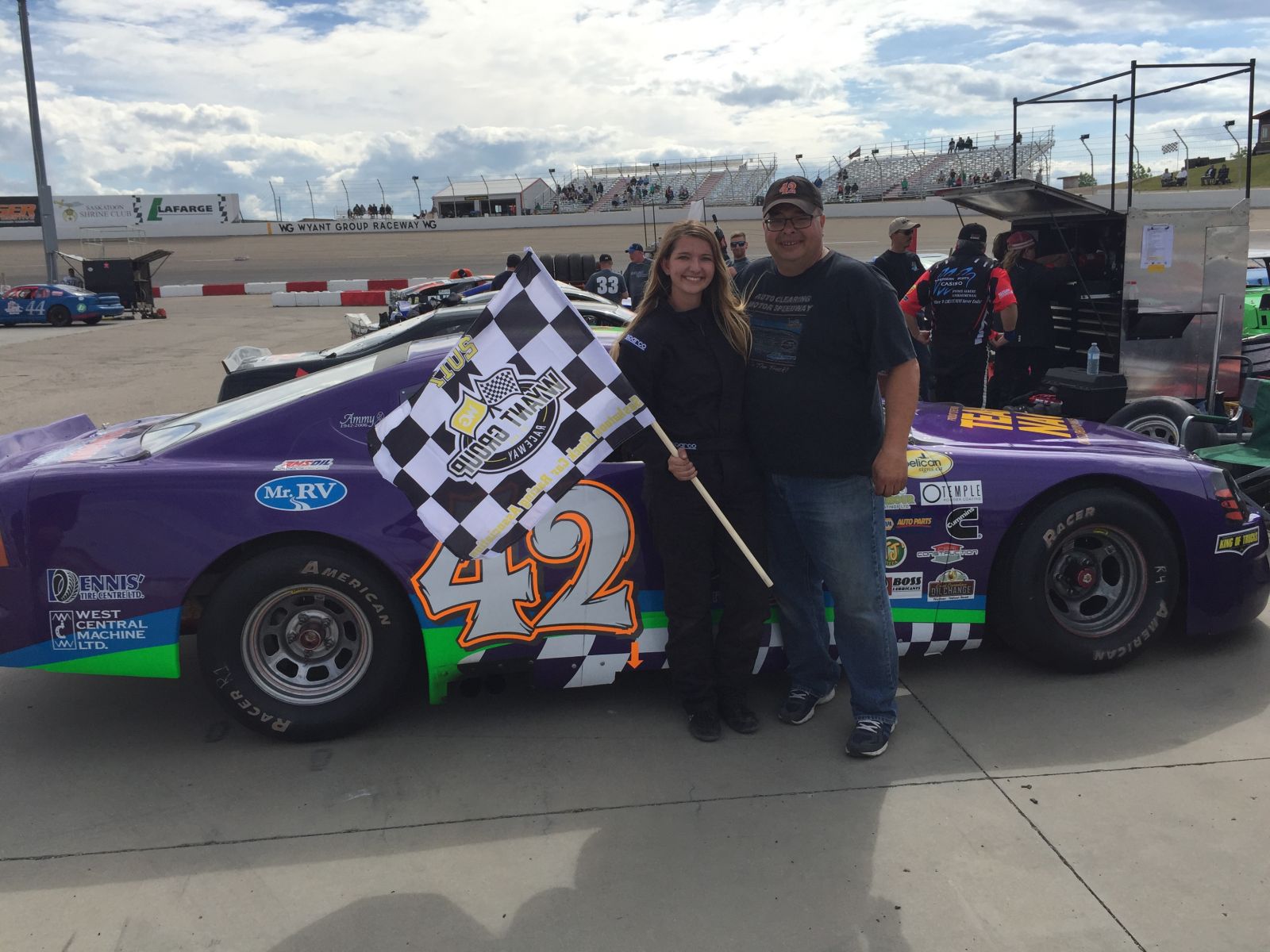 Nicole Sheetka is a 21 year old inspiring stock car racer at Wyant Group Raceway and competes in the Sportsman division. In a sport that is highly male dominated, Nicole has set the bar for females and is physical proof that women are just as good, or even better, at stock car racing. Some of her accomplishments include:
2013 Street Stock Rookie of the Year + Most Improved driver
2014 Street Stock – 2nd Place Points
1st Place Qualifier in the 2016 Race For the Cure
Multiple wins in Street Stock and Sportsman including winning the feature race on June 10th, 2017 (currently tied 2nd in points for 2017 season).
Nicole grew up in Saskatoon, SK and attended St. Volodymyr elementary and then St. Joseph high school. During that time she played soccer, dance, volleyball, basketball, softball, and gymnastics. How did she get into stock car racing you may ask?
Growing up, Nicole's family enjoyed watching many local races at Bridge City Speedway with Nicole cheering for her favourite drivers, Chris Shirley and Mickey Pogoda. At age of 12, she had the pleasure of meeting Mickey Pogoda, who to Nicole's excitement, invited her into the pits to crew for her team. Nicole has been hooked ever since. There were always the nay sayers though as Nicole told us that people would tell her that it would "Never happen." This in the end just added fuel to the fire and helped push her to new limits.
With a lot of hard work and determination finally, at age 15, Nicole was able to drive full time sharing duties with her sister, Kesley, in the Thunder stock division. They shared the wheel switching every race until unfortunately a terrible crash with Kelsey behind the wheel spelt the end of their season as their car was written off.
There is always a silver lining though as this gave the opportunity Nicole needed to move up. She purchased a Street Stock and so became her career as the #1 driver. Nicole battled in the Street Stock division for a few years earning her a 3rd place overall, a 2nd place overall, Rookie of the Year in 2013, and a couple Most Improved Driver awards.
It was then in 2016 when her next stage of her career took off as she purchased a Sportsman car. In her first year she was able to win Rookie of the Year and as well time in 1st in the 2016 Sportsman Race for the Cure (Prestigious Sportsman race).
Nicole is not just a racer though, she has spent countless hours helping within the community. Since 2012 Nicole has been an active member of the SSCRA Executive and is currently the Jr. Director of Advertising and Promotions. Nicole has also showed the youth in the community how to race through volunteering with the Junior Racing Program at Wyant Group Raceway. On top of that, she has served and prepared food for the Friendship Inn, collected food for the Saskatoon Food Bank through Halloweening for Hunger and has raised money for Cancer Research through the Race for The Cure event and is a proud supporter of Team Naiomi.
After meeting and speaking to such a passionate young woman, we had to ask her what her favourite part of the sport was. She replied with, "It's so fast paced, there is no time to think, only react." She also commented on that she loves being the odd one out as it helps her stand out at the track.
When asked what she would do if she won the $1000.00, Nicole responded by telling us that she would put 50% towards the 2017 Sportsman Race for the Cure and the other 50% towards her yearly racing expenses. Speaking of expenses, I believe we should mention Nicole's sponsors as it is only right to help promote the companies that support such a talented young woman, they are:
Rainbow International Restoration
Parr Autobody
West Central Machine Ltd.
Rosetown Mainline & Mainline Auto Group
Dennis' Tire & Wheel
Mr. RV
Screen Printing & Design
Nicole's goals and aspirations are to take home the Sportsman championship in 2017. From there Nicole would like to compete in the fastest division Wyant Group Raceway has to offer, the Super Late Models, and then someday race in any level of NASCAR.
If you would like to see Nicole Sheetka kick some serious butt on the track, come witness the action at Wyant Group Raceway on the dates the "Sportsman" division races. The link for the schedule is here:
https://www.wyantgroupraceway.ca/…/…/2017+sched+v1-4.pdf
Your 2017 Elite Twelve Finalists
Alex Toombs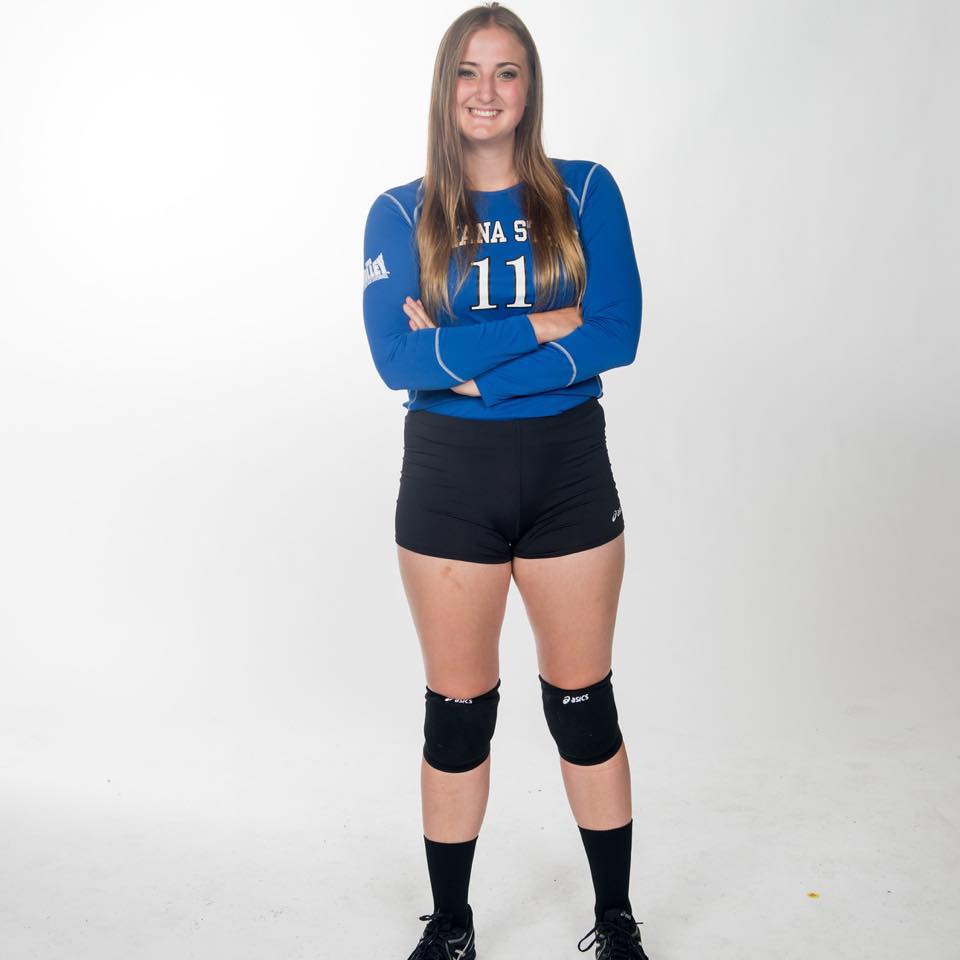 Alexandra Toombs is a 19 year old athlete who is pursuing her passion of volleyball and currently finished her first season playing for the Indiana State (NCAA Volley Ball Division 1 Team). Some of her accomplishments up to date are:
Starter on senior volleyball team from grade 9-12
1 Gold and 2 Silver medals in City Championships
2 Time Provincial Champion in club volleyball
Made Provincial volleyball team
Received awards such as freshman of the year, middle of the net, and team spirit award
27 other medals in the sport
Born and raised in Saskatoon, Alexandra attended the elementary schools of St. Pauls, Sister O'Brien, and St. Edwards where she was enrolled in a multitude of sports including gymnastics, diving, dancing, basketball, and at age 11, volleyball. Alexandra sprouted up quickly and was always known for her height and as she was always the tallest her in class. When it came to narrowing down her passion, Alexandra decided to stick with volleyball as she fit in with the team and felt at home as everyone was tall and there were no personal comments on her height.
With strong drive and motivation to be the best, Alexandra jumped right into the senior volleyball team for BJM by trying out in grade 9. What's impressive is the fact that she didn't just make the team, but she started for the team in grade 9 where she won the "Freshman of the Year" award. From there she went on to win one gold and two silvers in the City Championships and as well was named team captain in grade 12.
When asked what her favourite part of the sport was, Alexandra talked about the competition, how intense it is, and how momentum can swing at any time with a timely block and/or spike. The team atmosphere and having to all work together to win was another area that she made sure to mention as in volleyball, you are only as good as your teammates that surround you.
Alexandra has also been heavily invested within the community of Saskatoon. She has been an assistant coach for three years for both boys and girls. She officiated school junior games for four years in volleyball and was a member of her school's community service and social justice group for four years, serving as a leader for two of those years.
We asked Alexandra what she would do if she won the $1000.00 and her immediate response was to use it for a trip back home or to bring her family down for a game. From our interview it was clear that Alex has a great relationship with her family and especially with her sister Madison as she mentioned that playing sports with her little sister was some of the most memorable times she has ever had!
Alexandra's personal dreams/aspirations is to play for a NCAA Division 1 volleyball team as the best of the best end up playing in there. She is currently living out her dream at Indiana State University as an ISU Sycamore. While playing, she is studying to become a physiotherapist with the hope to someday try out for team Canada's National Volleyball Team. "Sports are in my blood and always will be, whether that is by playing, coaching, or working with other athletes through my chosen career of physiotherapy."
You can see the full Indiana State roster at http://www.gosycamores.com/roster.aspx?path=wvball and if you would like to follow Alexandra, please catch her games on ESPN 3!
Kade Thompson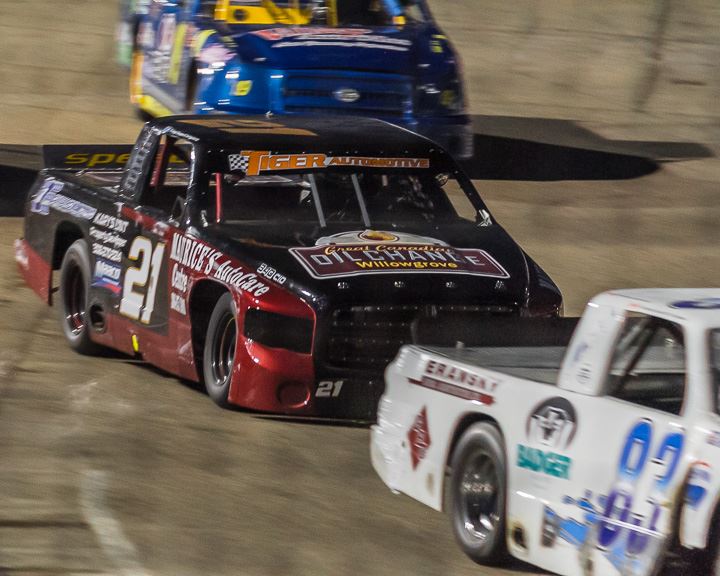 Kade Thompson is a 25 year old aspiring race car driver. He is living out his passion in the Pro Truck division at Wyant Group Raceway. As of today, some of his accomplishments include:
2015 Pro Truck Rookie of the Year
1st Place at the Draggins Car Show 2015 & 2017
Full Involvement Building the #21 Pro Truck, #33 Sportsman, #21
Enduro Car
Born and raised in Saskatoon SK, Kade attended the elementary school of Egnatoff elementary and attended Centennial Collegiate in high school. Kade decided that he wanted to take a shop mechanics class so with permission from the school, he enrolled in the shop mechanics class at Walter Murray. There, he met Aaron Deagnon (another young aspiring race car driver) and invited Kade to join his race team. Kade immediately jumped on board with their race team and became the marketer so they could build a Pro Truck.
This was exactly what Kade dreamed of as he has had an obsession of cars his entire life. When he was young, Kade helped his dad restore a Camaro and when he wasn't in the shop, he was busy drawing up the "coolest" new set of gauges to put on his desk at school to replicate the feeling of being behind the wheel of a race car.
That being said, Kade knew it was just a matter of time until he jumped behind the wheel of a race car. He crewed for 3 years with the Deagnons, learned the ropes, and in 2014 he built his first ever Enduro car. After one race and having a taste of what it is like to behind the wheel of a race car he was completely hooked. In 2015 Kade had an opportunity to purchase the truck he had been working on and marketing for the past 3 years as the Deagnons were moving up the Super Late Model Division. Kade snatched up the opportunity and raced his first full-time season in 2015 and finished an astonishing 8th out of 18 in points in one of the most competitive years of Pro Truck racing at Wyant Group Raceway. Kade also managed to win Rookie of the Year, and even managed to steal a heat race win!
When asked what triggered him to get into stock car racing, Kade responded by telling us all about his childhood memories of old Bridge City Speedway and watching his favourite driver, the #60 Thunder Stock of Trevor Lindgrind, and how he won the $100.00 that was up for grabs to flip his car. The fond memories of the race track led him to the inspiration and passion to get into shop class and meet the Deagnons. From there the snowball started rolling down the hill.
We asked Kade what was his favourite part about stock car racing was and instead of responding with the typical gear nut response of "adrenaline and the rush" he talked about the community at the track. "Everyone helps each other out, relates to one another and treats each other like family," Kade said. That being said, Kade has been one to give back to the racing community. He has volunteered at Adult Orientation and Junior Racing Programs on Sundays and is an active member within the SSCRA (Saskatoon Stock Car Racing Association) and attends general meetings every month to try and get a sense of how the track works and how he can help. Kade is also active within the community doing a multitude of displays throughout the city.
Displays are very important as his sponsors are very dear and important to him so Kade puts a lot of pride and ownership into his Pro Truck as racing is an expensive sport. Unless you are born into a rich family, sponsors are needed in stock car racing. When asked what Kade would do with the $1000.00 he replied, "Racing funds. Specifically a set of scales to better the team's preparation on race day."
We would like to mention Kade's sponsors to help show all the work he has done outside of the "racing" aspect of it. They are:
Maurice's Auto Care Centre LTD
NextGen Automotive Installation
Speedtech Racing Development
Shaelene Gudmundson Realty Executives
Norcan Fluid Power
Hillacre Transportation Services
Bartari Video Game Bar
JW Graphic Design
Ess K Customs
Idylwyld Auto Service
Brown's Leisure World Yorkton
Graphic Elements Yorkton
BLW Turbo Yorkton
Speedy Collision Centre
Novakoski Quality Collision
Circle Track Crew Chief
Kade's goals and aspirations are focused strictly on the 2017 season. His goals include winning at least one feature race, having consistent top 3 finishes, taking home the championship, and taking his friend Colleen Burris on a car ride-along during her "6 months to dream"
If you would like to see Kade Thompson living out his passion on the track, you can see him at Wyant Group Raceway on the dates the "Pro Truck" division races. The link for the schedule is here:
https://www.wyantgroupraceway.ca/…/…/2017+sched+v1-4.pdf
Ryan Thompson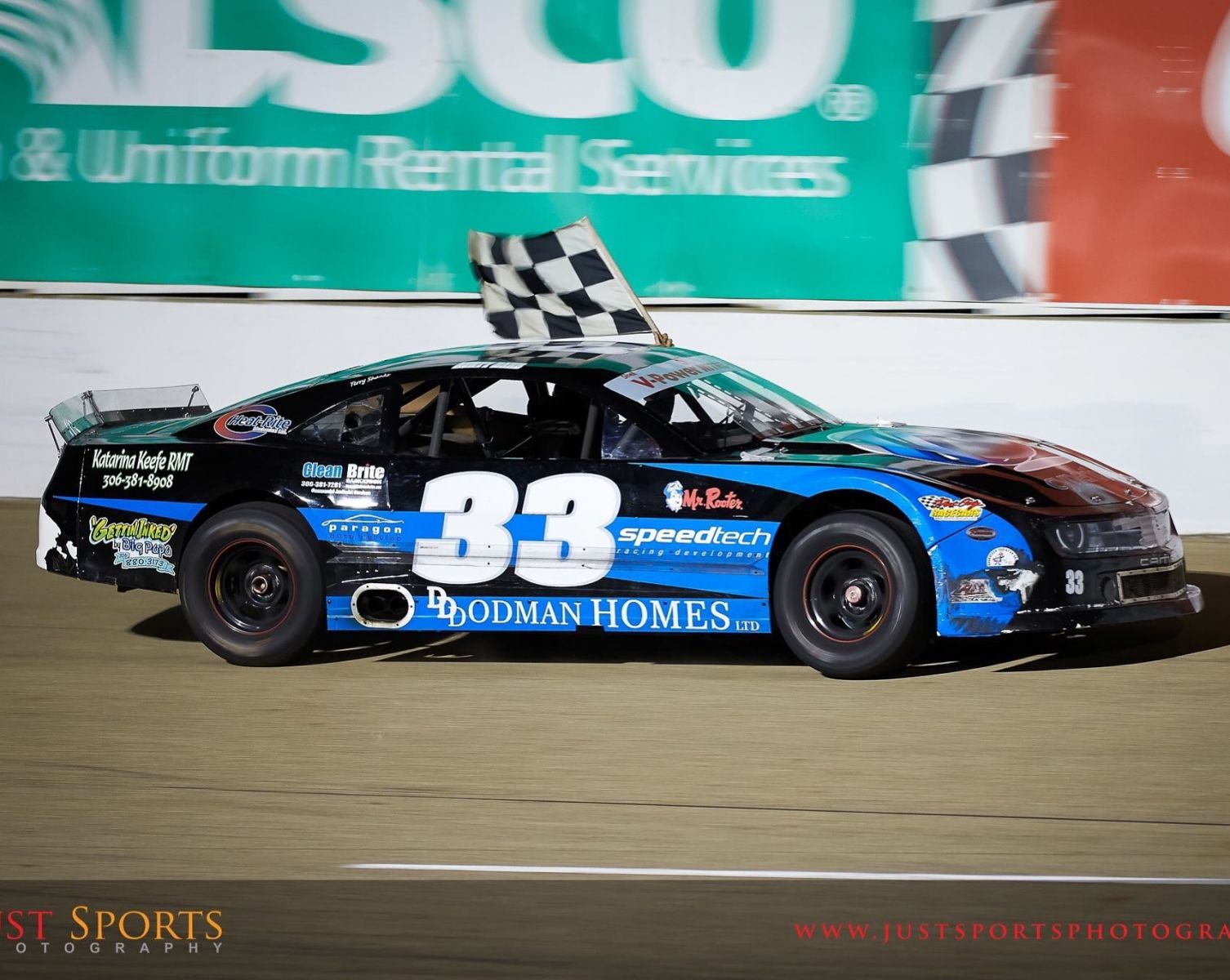 Ryan Thompson is another 25 year old stock car racer from Wyant Group Raceway. Different than Kade, Ryan is currently racing in the Sportsman division (previously known as CASCAR). Some of Ryan's accomplishments include:
2011 Street Stock Rookie of the Year
2013 Street Stock Most Feature Wins
Only 1 of 3 drivers to win a feature race in the Sportsman Division in 2016
Ryan Thompson was born in Winnipeg, MB and lived there until the age of 3. His family then decided to move to the small town of Warman and have been a resident of the community ever since. Stock car racing was introduced to Ryan at a young age as his family were avid stock car fans which resulted in Ryan watching NASCAR since he was 6 months. When asked who Ryan's favourite driver was he responded with the legend and popular Jeff Gordon. Since then Ryan has had a passion towards stock car racing but he made it clear that there was no push from his parents to be a race car driver as it is a very expensive sport and his parents raised him to be a very humble man who earned his keep.
In the year 2000 Ryan started going to the race track here in Saskatoon which at that time was called Bridge City Speedway. During that time, Ryan watched his dad crew for Les Hillacre who drove in the Street Stock division and dreamed up strapping on the belts and getting behind the wheel. Luckily his opportunity arose in 2011 where Les sold that exact same race car to Ryan.
During his rookie season Ryan unfortunately got into a crash that put his season in jeopardy. With the help and support from his team though, Ryan was able to rally and come back stronger than ever and won the Rookie of the Year title in 2011. From there on it was steady improvement season to season with a highlight being in 2013 when Ryan obtained the award for the Most Feature Wins in the Street Stock division.
During this time, Ryan had also invested himself immensely with officiating and became one of the track's top Flagman. With more added to his plate, Ryan took the 2015 season off and put up his car for sale as he wanted pursue a couple other areas in his life. He still stuck to officiating and flagging though and back in 2016 Ryan was back behind the wheel of a race car. This time, in the Sportsman division. Ryan had an incredible come back year and was a top contender by being only 1 of 3 Sportsman drivers to win a feature race in the 2016 season!
When asked what made him get into stock car racing Ryan responded with, "Passion, and the community feeling you get at the track." He talked about how the track is like a family with members enjoying the day together but every now and then tempers flare. We then asked Ryan what his favourite part of the sport was and he said, "The competition, being pushed passed your limits and having someone always pushing/trying to be better than you."
Ryan is also heavily embedded in the community. Along with being a full time race car driver, mechanic, and for a few years a flagman, Ryan has also been involved in many community events and displays. He just finished the Martensville Buster days last weekend and is doing everything he can to promote the stock car racing in Saskatchewan and as well his sponsors. Ryan has also been a huge supporter of the Race for the Cure, an invitational race that the Sportsman division puts on at Wyant Group Raceway where drivers and teams raise money for the Cancer of their choice. Ryan is also a supporter of Laps 4 MD which is a fundraiser he does himself that raises money for Muscular Dystrophy. When asked what he would do if he won the $1000.00 Ryan replied by stating that he would donate the money towards Laps 4 MD and as well Race for the Cure. Somehow, in his multitude of spare time, he is also the Director of Junior Racing at Wyant Group Raceway and is the main organizer behind the Junior and Adult Orientation programs. Does this man sleep? We do not know.
That being said, it is time we mention Ryan's sponsors as they are supporting an incredible athlete who gives back to the community in a multitude of ways:
Dodman Homes
Paragon Auto service
Heat-rite mechanical
Mr. Rooter
Liason Freight Services
Inland Steel Products
Speedtech Racing Development
Cynertia Electric and Control Inc
Inline Paint and Body
Jasper Enterprises Inc
Construction Fasteners
Custom Courier
JW Graphics
Circle track Crewchief
Janzen Hot Rods
Russel Metals Inc
Kemmer Racing Photography
Linde canada ltd
Katarina Keefe RMT
Ryan's personal dreams and aspirations include opening his own business (which he is currently working towards). Being a role model for the younger generation and to be announced as one of Saskatoon's Elite Twelve Athletes (Yes he said that and yes he earned some brownie points).
If you would like to see Ryan Thompson tear up the track this year, come see him live in action at Wyant Group Raceway! The schedule is provided if you enter the link below. Ryan will be racing on all events that include the "Sportsman" division.
https://www.wyantgroupraceway.ca/…/…/2017+sched+v1-4.pdf
Tanner LePage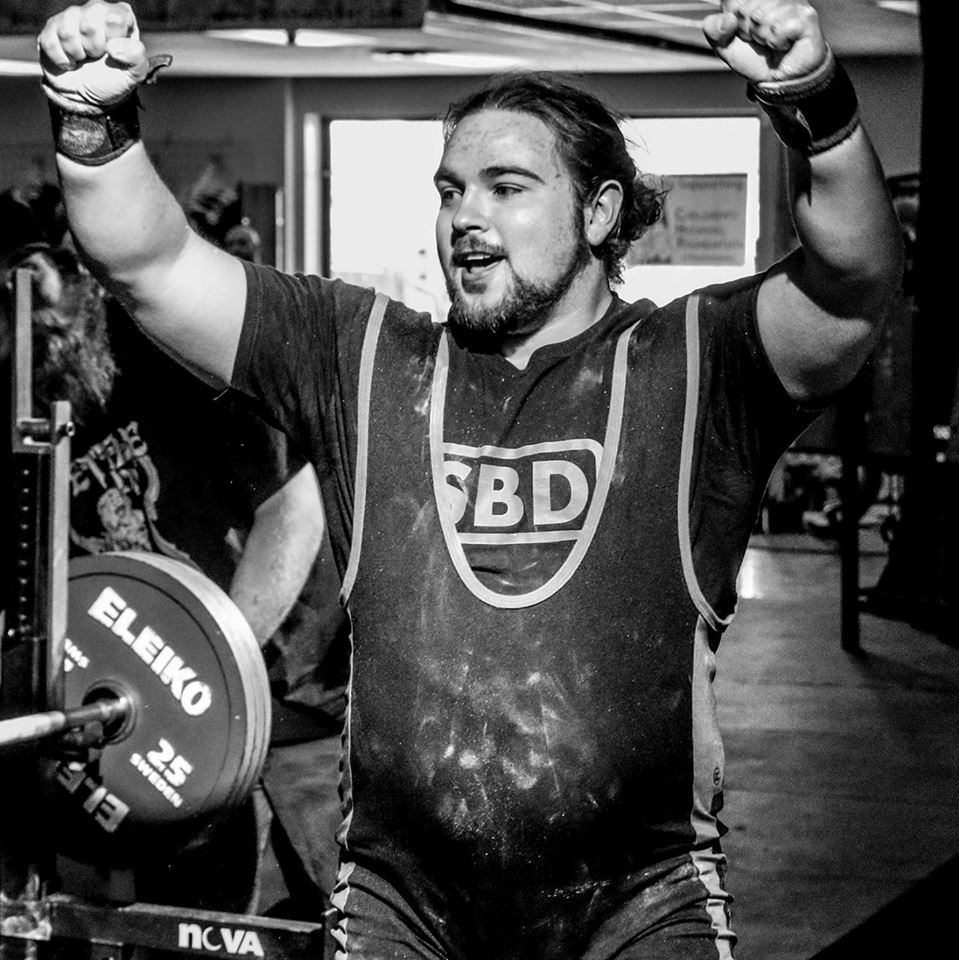 Tanner LePage is a self-made 22 year old power lifter born and raised in Saskatoon, SK. Some of his accomplishments up to date include:
2015 North American: 93Kg Jr. (Unequipped) Champion
2016 Canadian Championships: Male Best Overall (Unequipped) Jr.
Former North American Powerlifting Federation, Squat, Bench Press, and Total Record holder (93kg Jr, Unequipped)
During his early years, Tanner played hockey and football while attending River Heights Elementary and then Marion Graham Collegiate. Tanner's love for sports started at a young age as he was enrolled with Renegade hockey in 2nd year initiation and played until his first year of midget. Hockey then got cut as football became more and more demanding as Tanner grew up. After playing three years of Kinsmen Football, Tanner played for his high school, Marion Graham, as a D-Lineman and Fullback.
As football is a very demanding sport, Tanner became more involved with training and working out to help better himself on the field and started to hit the gym in grade 11. After becoming a regular at the gym and enjoying the atmospheres at World Gym, Motion Fitness, and Iron Works, his Dad's friend, Chris Arnold, exposed Tanner to the world of power lifting. It only took one competition and Tanner became hooked.
Since then, Tanner has become completely invested into powerlifting. He has currently received his license to be a provincial referee for powerlifting and is aspiring to obtain a national referee license. Tanner also is currently enrolled in Engineering at the University of Saskatchewan and is currently working in a third year engineering internship. Somehow, during his time in Engineering, the college that is known to break the soul, Tanner was able to find enough time to create the U of S Barbell (Powerlifting/Weightlifting club) 2 years ago.
Tanner emits passion so we asked Tanner, "Other than your dad's friend, what other factors made you get into the sport." Tanner replied with, "I always wanted to be strong, and to be the best. The community is great, and my parents were very supportive of it."
We then asked Tanner what was his favorite part about the sport is he responded by talking about the community. He did not expect such a friendly and supportive environment and really appreciates the friendships and support he has received throughout his time as a power lifter.
Even with a busy lifestyle, Tanner's dreams and aspirations show us he does not seem to be slowing down. His dreams and aspirations include:
Represent Canada and Medal at the 2018 Junior World Championships in Potchefstroom, South Africa
Provide proper powerlifting and weightlifting equipment to the University of Saskatchewan
Send a team to the World University Powerlifting Championships
Promote Powerlifting and Weightlifting to become a CIS recognized sport
Become a Canadian Powerlifting Referee
Complete Degree in Civil Engineering
When asked what Tanner would do if he won the $1000.00, he responded as any University of Saskatchewan student would, Tuition. Tanner is getting near the end of his degree but needs every penny he can muster with tuition on the rise.
If you are interested in powerlifting and would like to check out the U of S Barbell. Please visit their Facebook page:https://www.facebook.com/UofSBarbell/# or visit their Instagram page: UofSbarbell
Anthony Lapierre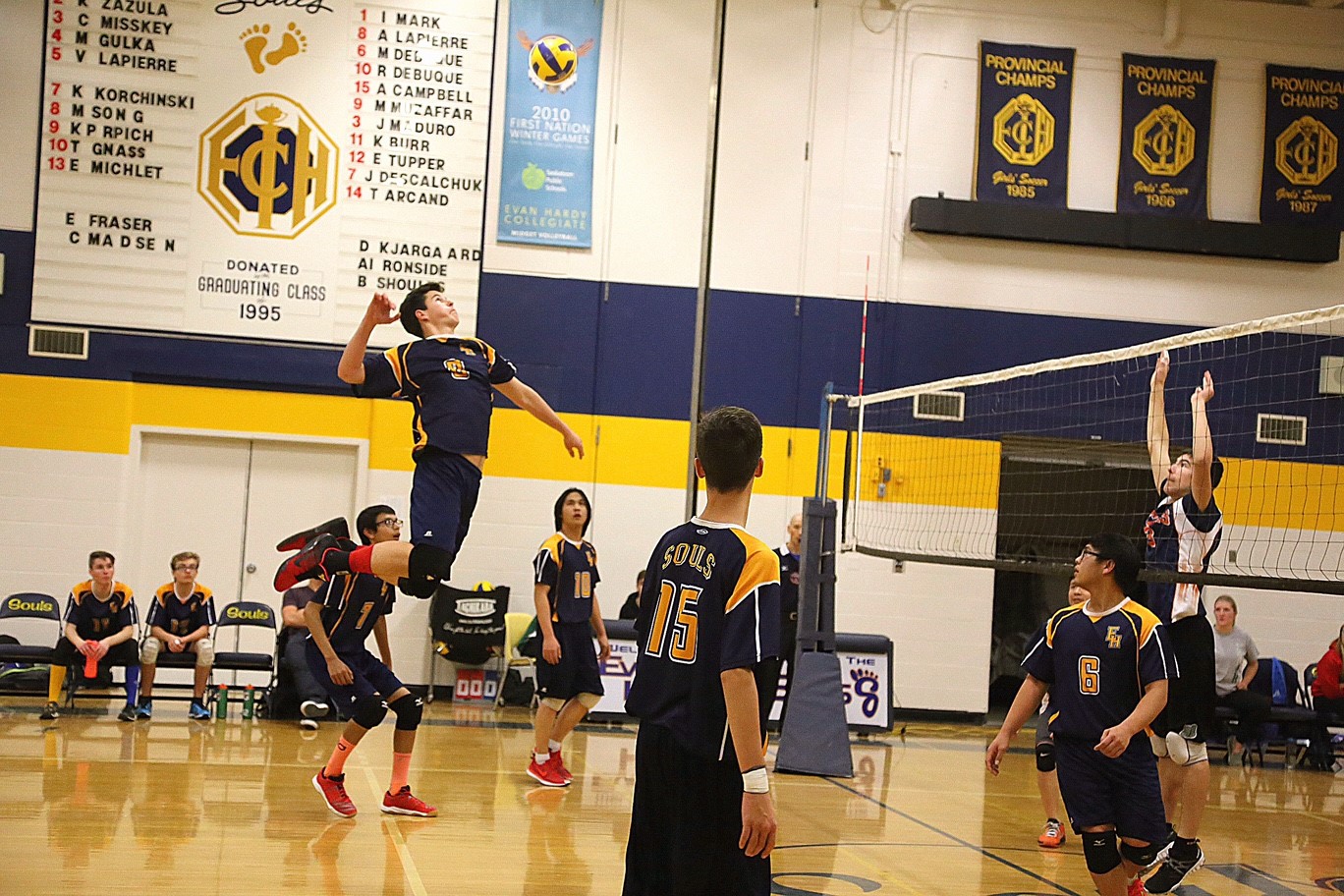 Anthony Lapierre is a 17 year old grade 12 student who excels at Volleyball. Born and raised in Saskatoon, Anthony has achieved many excellent accomplishments including:
Making the Saskatchewan French Team
Signing with the Augustana Vikings
Achieving high school MVP status
Growing up, Anthony enjoyed playing and practicing just about every sport from football, to volleyball, to fencing. Early on, volleyball became Anthony's primary interest. This was largely due to the positive influences he encountered and the friendships he made while playing the sport which opened his eyes to what would soon become his passion. Anthony began to play volleyball year-round through school, club and beach volleyball. A couple of his early highlights include making the senior high school team at Evan Hardy Collegiate and even making the Junior Huskie team in grade 10.
Additional to the close friendships that Anthony has developed as a result of his time spent playing volleyball, we asked him what his favourite part of the sport was. His immediate response was that volleyball is one of the few sports that truly relies on teamwork and unity. Unlike many sports that can have successful teams thanks to a single star player, a volleyball team is only as good as its weakest link. A cohesive team strategy is absolutely essential to succeed, and Anthony recognizes this, encouraging his team members and himself to always be on their A-game.
Anthony actively takes his passion for the game off of the court in the form of volunteering and helping other young aspiring athletes find early success. He has done so through assisting in coaching for younger volleyball teams as well as being a ref at volleyball games. His giving spirit has also been demonstrated beyond volleyball altogether in the form of volunteering his time at the Friendship Inn here in Saskatoon.
Anthony has demonstrated his love for volleyball throughout his academic career. His future dreams and aspirations follow this trend and include pursuing a successful academic career as a newly signed Augustana Viking while working toward his Kinesiology degree, and eventually heading to Medical school afterward.
Even with an exceptionally busy lifestyle, Anthony is described by those who know him as a wonderful person, a team player, and has an exceptional drive to succeed. When asked what he would do with the $1000.00 if he won the competition, his response was to put it toward his volleyball career in the form of tuition at Augustana.
Scott Kozak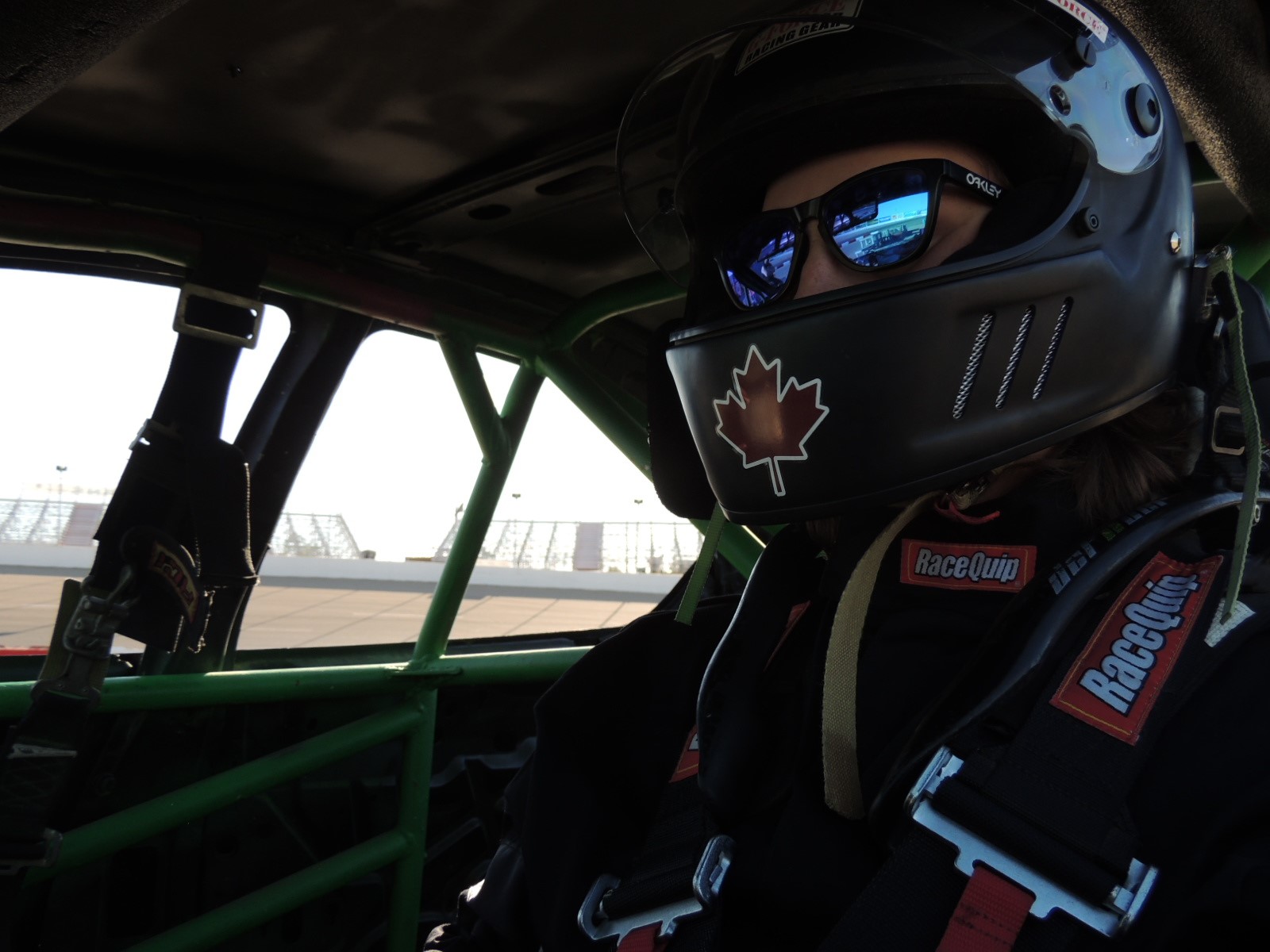 Scott Kozak is a 16 year old stock car racer at Wyant Group Raceway and is the definition of a grass roots racer. As a young and aspiring racer, Scott currently has 2 years of full time racing experience in the Mini Stock division and is focusing on improving with every race. As he is so young, Scott's achievements are only beginning but some of his accomplishments and community involvement include:
Consistent top 5 finishes every race
Keeping the car in one piece (harder than it sounds)
Honour role in school
Hockey referee and a lock down goaltender for the Martensville Marauders
Volunteer on race days he does not race
Scott was born in Saskatoon but got out of the little bridge city right away and lived his life in Asquith, Humboldt, and currently Martensville. We asked Scott how he got into the sport and he immediately started to tell us a unique and cool story.
When Scott was 10 years old he was at his Grandma's house when he stumbled across an old stock car trophy. He asked his grandma what the trophy was for and she informed him that she used to race in Regina back in the day at Kings Park Speedway. At that very moment Scott was motivated and wanted to race. His grandma then took initiative and helped Scott lightly push his father into creating a race team. His father, Jeff Kozak, is a journeyman mechanic which was the perfect scenario for their family to get into the sport. They first purchased a "Run Your Junk" car which shockingly resulted in Scott hitting the wall on lap 10. After that stunning blow, Scott was hesitant to return to racing but with the support and motivation from a friend and fellow experienced racer, Scott Barrand, Scott was able to jump into a Mini Stock full time the next year.
After getting more and more seat time and becoming more comfortable with the car, Scott has been able to overcome the horrifying wall and has become a top runner at Wyant Group Raceway running consistent competitive laps of under 18.0 seconds and finishing within the top 5 consistently every race. Scott's goals for the 2017 season is to continue to finish in the top 5 and start peaking inside the top 3 and eventually taking home a victory and the coveted checkered flag.
When asked what Scott's favourite part of the sport is, he replied with, "the adrenaline rush and how it involves more instinct/reaction with a lot of subconscious thinking, as well as the atmosphere. Everyone is like a family."
We then asked Scott what he plans on doing with the $1000.00 if he were to win. Scott explained that he would split it up between school and his next race car. Scott currently has a Sportsman car and is in the midst of going through it and rebuilding it for when he ready for the next phase in his racing career. That being said and knowing racing is an expensive sport, we would like to mention Scott's sponsors as they are a vital part of his program and are supporting a respectful/humble young man. They are:
Steves Home Repair
Sherwood Chevrolet
Mako Signs
Realty Exectives-Craig Stelzer
Grandma Czekaj
nan
K&M Autobody
Scott's dreams include becoming a motorsport or automotive engineer and opening his own vehicle performance shop in Las Vegas or South California. We asked him why not here in Saskatoon, as we wanted to take advantage of his services, but Scott replied because with how the weather there is amazing and the cars are just as nice...good point Scott.
If you would like to see Scott Kozak rip around the track and live out his passion, go watch him at Wyant Group Raceway on the dates the "Mini Stock" division races. The link for the schedule is here:
https://www.wyantgroupraceway.ca/…/…/2017+sched+v1-4.pdf
Makenna Foster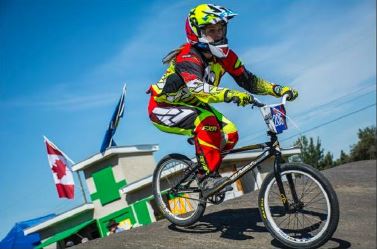 Makenna Foster is a 15 year old BMX rider from Colonsay, Saskatchewan. Only 2 wins away from becoming an Expert in the sport, some of her outstanding achievements include:
First place in the 2016 Saskatchewan Cup
First place in the 2016 Alberta Nationals
Made the 2017 Team Canada BMX Team
Makenna has been an avid BMX rider for over 7 years as one of the original 4 members at Globe BMX Raceway here in Saskatoon. The track has seen significant growth with 129 members and the 2017 season is looking strong. Makenna has been a strong ambassador for female racers at the track, reinforcing and demonstrating the fact that girls are just as good – if not better, than the guys on the track. Makenna is currently training for her next shot at a championship, the 2017 World Championship in South Carolina. Makenna's impressive list of accomplishments is just the beginning!
When we asked Makenna about the reasons why she got so involved with BMX racing, she responded with the sense of sportsmanship among the athletes. The group is very open and friendly, and offers a sense of community that is unique to the sport. After growing with this community for over 7 years, Makenna has become a real role model. With an emphasis on safety, thanks to a variety of specialized safety equipment, Makenna also enjoys the adrenaline rush that BMX racing provides with its close-quarters racing.
Makenna takes her love of the sport beyond the racing and actively helps out in the community. She spends time mentoring and coaching young riders at the track, takes ownership on keeping the track clean and race-ready, and also participates in broader initiatives like the 4-H community clean up. Makenna is described by those around her as not only an excellent athlete, but as a dedicated and strong individual who is always giving 110%. Makenna's dreams and aspirations display this as well. Her short term goals are to become an Expert in BMX racing (only 2 wins away), making it to the main event at the World Championship, and to hold her Championship title in the Saskatchewan Games this year. Not forgetting her academic life, Makenna hopes to make Walter Murray's cross country team as well, all while maintaining her 90% average in classes.
More long term goals for Makenna include becoming a certified BMX coach so that she can continue down her path of mentoring upcoming riders, and she also plans to continue her education and become a doctor. Makenna has a pretty impressive list of goals, all of which are well within reach based on her track record. When asked what she would do if she won the $1000.00, Makenna said that it would go straight toward her upcoming trip for the World Championship – maybe allowing her to fit some down time on the beach into her busy schedule!
Makenna would also like to thank a couple of her main sponsors for helping her get to where she is today:
FXR Racing
Adrenaline Unlimited (located on the corner of Faithful Ave and 51st Street)
If you would like to learn more about BMX racing in Saskatoon, visit "Globe BMX Raceway's" page on Facebook.
Spencer LePage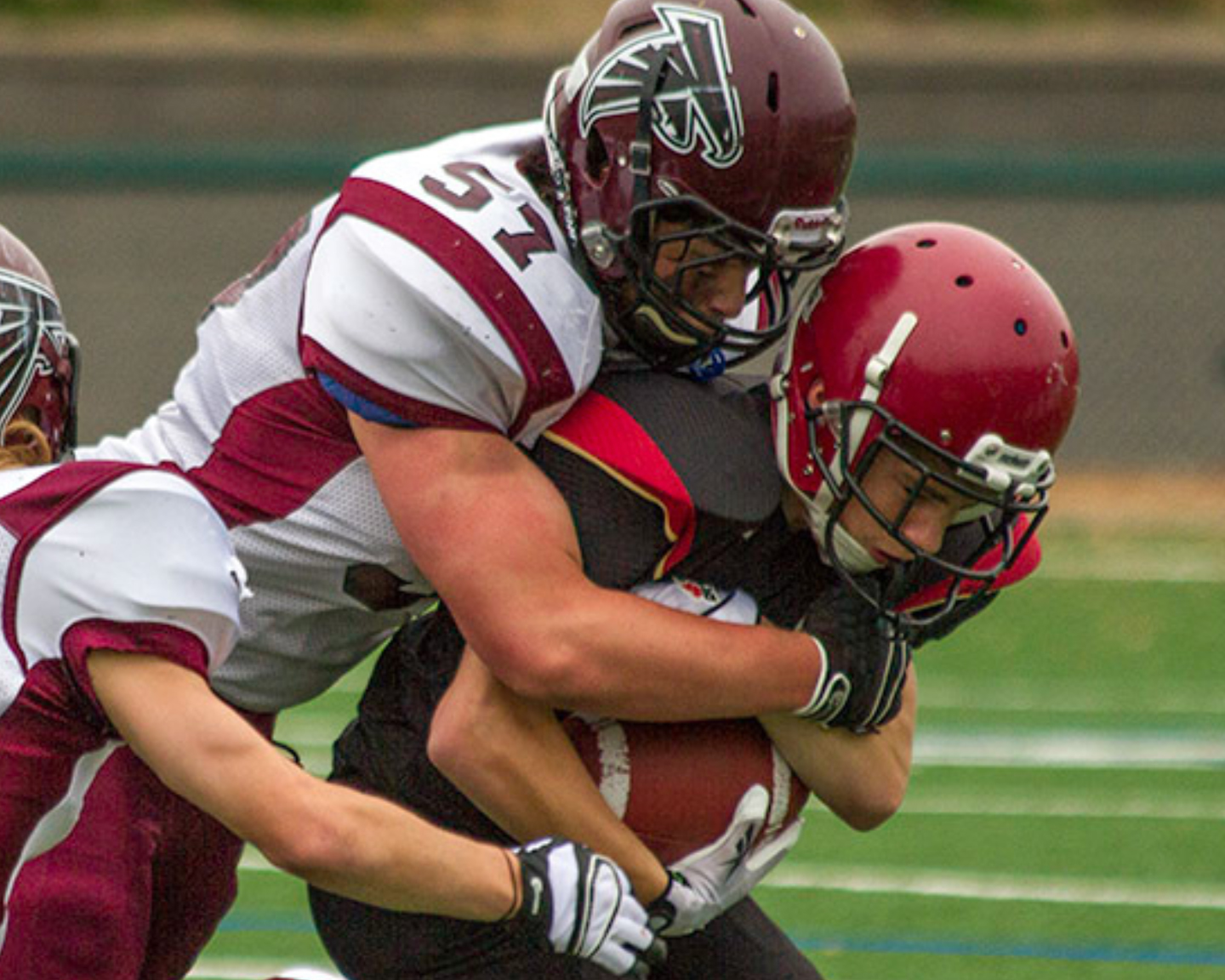 Our first football player on our roster, Spencer LePage is an 18 year old locally grown football player who grew up in Saskatoon, SK. Up to date, some of his accomplishments include:
Defensive Falcon Pride Award
Senior Captain for Grade 12 season
In Grade 10, Practiced with the Senior Football Team
Growing up in Saskatoon, Spencer attended River Heights Elementary and Marion Graham high school. At a young age though, Football was not on Spencer's mind. At age 4 he was on the ice lacing up the skates and learning how to play hockey. At age 5 he was enrolled as a Renegade and played hockey for 10 years. During this time, Spencer also enjoyed the sports of soccer and volleyball at a young age and then wrestling all throughout high school.
What made Spencer get out of hockey you may ask? Well, I think it is pretty obvious, football. How Spencer got into football though is a good story. Spencer sprouted up and thickened out in high school and had the build of a football player. With his older brother being a football player as well, we thought it was a guarantee that it was a family member who convinced Spencer. Spencer told us though that he never gave into his brothers encouraging words as he thought football was mostly just cardio. Spencer wasn't convinced until the coach for the football team approached Spencer and bribed him. What did he use for bribery you may ask? Every young man's weak spot…chocolate milk. It was after that free chocolate milk and going to one practice that Spencer became hooked and even dropped hockey to pursue football.
We then had to ask Spencer what made him stick with football. Spencer replied with talking about the contact. "It is aggressive and is a great stress reliever," Spencer said. He then talked about the atmosphere and how big hits and a big play can take you for a ride of adrenaline and excitement. Spencer also acknowledged and appreciates the fact that as a football player, it helps you stick out to your classmates as it helps make a name for yourself.
Spencer has also been involved with giving back to the community. Spencer attended the Cornerstone youth program, helped and participated in activities with the people from Elmwood, and as well assisted with junior wrestling practices.
To add to his caring heart, Spencer told us that if he were to win the $1000.00, he would split it up and give it to his mom and grandma as he told us, "Both have always been there for me, and mom works her butt off."
Spencer's personal dreams and aspirations include taking his football skills to the next level. He hopes to play a higher level of football either in the CJFL (Hilltops) or for the University of Saskatchewan Huskies. Educations is very important to Spencer as well and he plans on attending the University of Saskatchewan to get a degree in Phycology so he can become a Phycologist and help kids with mental illness.
Jared Reddekopp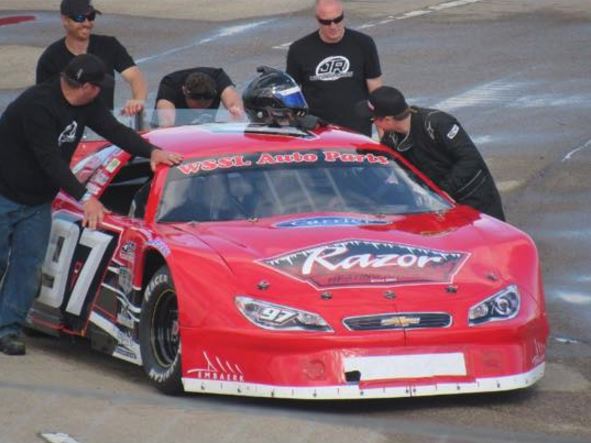 Our final Elite Twelve Athlete for 2017! Jared Reddekopp is a 19 year old Super Late Model driver at Wyant Group Raceway. That may seem young to our readers but Jared currently has 11 years of racing experience (5 in stock cars, and 6 in go-karts). Up to date, his most recent achievements include:
2014 Super Late Model Rookie of the Year and youngest local driver to ever compete in the Super Late Model Division in Saskatoon
2015 2nd Overall in points falling short of 1st place by a minuscule amount of 7 points.
5 heat race wins, 10 top 5's, and 3 feature wins during stock car career.
Jared Reddekopp was born in Saskatoon but was raised in Osler and currently resides in Warman. Jared grew up watching his dad race Street Stocks and Pro Trucks starting in 2002 and was an avid fan of his father.
At the age of 7, Jared was exposed to the world of karting thanks to Cory Friesen and the following year he had to take part in the action. He bought a go-kart the next year and only raced 4 times but managed to place inside the top 3 out of 15 karts in a main event. It was noted that the kid could drive so next year Jared got a new kart and managed to finish 2nd overall in points and then won the championship in only his second full-time season! From there Jared purchased a Rotax (faster division) and played around with the faster karts for a bit before making his jump into stock car racing.
At age 14, Jared got into the Mini Stock division at Wyant Group Raceway. In his first year he won Rookie of the Year, followed up by two feature wins the following year and then jumped up to Super Late Model at the age of 16 and became the youngest local Super Late Model Driver to ever hit the track.
In his first year, Jared won Rookie of the Year and the "Most Courteous Driver Award" voted upon the drivers. He followed that up the next year by finishing 2nd in points, winning "Best Looking Car and Crew", and winning multiple heat races, and finishing top 5's in features and invitationals.
Jared was on an absolute tear when his luck took a turn for the worse in 2016. Multiple mechanical failures occurred including two engines blowing up, a clutch giving out, brake issues and tire issues. Jared was awarded the "Phoenix Award" (tough luck award) and Best Looking Car and Crew in 2016.
His goals for 2017 are simple. Forget last year and improve from 2015. Jared is striving to finish top 3 in the Market Tire WSA Series races, and earn his first feature win in Super Late Model. Helping him accomplish these goals for 2017 are a list of sponsors that we believe deserve some recognition for supporting such a talented young man. They are:
Razor Heating and A/C
Carrier Turn to the Experts
Harvest For Kids Saskatchewan Doerksen Farms
Feitsma Services
Saskatoon Truck Parts
Pinnacle Builders Ltd.
Unique Collision / Linex Coatings
Tibo's Mobile Welding
Embaerk
Driving Force
The Bolt Supply House Ltd
TMG - Joan Giesbrecht
JAGR Homes
Ghost Transportation
Green Pixel Designs
Tosh
Mr. Mikes Casual steakhouse- Martensville
Jared has sure made a name for himself already and he is only 19! When we asked Jared about what got him into the sport he passionately responded with, "Watching dad. I love being in the shop as well as the track."
We then asked Jared what his favourite part of the sport was and he responded with, "The community and commodity between the teams and the crews. As well as the intensity. Super Late Model racing feels like the show." Super Late Model racing is the highest form of Stock Car racing currently in Western Canada and for Jared at the age of 19 to accomplish what he has, is quite the feat indeed.
When asked about what he would do if he won the $1000.00, Jared responded with, "Student Loans, or a track rental for racing." Oh, we forgot to mention that Jared some how has time to be enrolled in the Edwards School of Business at the University of Saskatchewan.
To add to his busy schedule, Jared has also been invested in giving back to the community. Jared went on a mission's trip to Vancouver BC with his graduating high school class in 2014. This entailed many trips to the inner part of Saskatoon, prior going to Vancouver, to deliver food and well wishes to community people to prepare themselves for the final trip. Jared also assisted coached high school volleyball throughout the 2016 school year and volunteers at the track by selling 50/50 tickets, tending the parking lot, and working on the cleanup truck during races.
If you would like to see Jared Reddekopp racing in "The Show" against Western Canada's Best Super Late Model Drivers, come can see him at Wyant Group Raceway on July 8th! Gates open at 4:30 pm and Racing starts at 6:00 pm. If that date does not work for you, you can see Jared race when the "Super Late Model" division races. The link for the schedule is here: